Welcome Aeroheads!!
---
Rocksimus Maximus
Aerosmith started their Rocksimus Maximus tour with KISS on August 2 in Hartford. For the complete tour date listing, click here. I've read concert reviews from several different newspapers and only a few tried to say KISS outdid Aerosmith. All other reviewers reported that Aerosmith blew KISS away with real heartfelt rock.

..::Update::.. It was Saturday October 18, 2003 in San Bernardino, California. We listened to Aerosmith in the car during the 3-hour drive from Vegas. Got a little turned around and pulled into the sandy parking lot where KISS fans were decked out in makeup and capes and platform shoes. My husband and I quietly waltzed by in our Aerosmith attire. We picked up our AF1 tickets at the will-call window and took our seats. The seats were by no means wonderful but we were situated 2 rows behind the end of the catwalk, a few seats off to Joe's side. Saliva came on first. They sure surprised me. The lead singer had a great voice and showed they had what it takes to open for Kiss and Aerosmith. Then, as more fans trickled into the venue, KISS came on. At first, I guess I dropped my mouth open and stared for a few minutes. I had certainly never before seen old men dressed in spandex and clown makeup. After a while, I recognized a few songs and kind of got into it. Gene did his infamous mouth bleed and Paul sang earnestly in his black spandex star-on-the-left-butt-cheek pants. Then came Rock & Roll All Nite. I can never listen to that party anthem on the radio for more than 2 minutes, but it was actually good live! KISS finally got their spandex butts off the stage and we waited about 15 minutes for Aerosmith to appear. First song at the drop of the curtain was Mama Kin. Love in An Elevator. Toys in the Attic. Let the Music Do the Talking (everyday fans didn't have a clue on this one). Livin on the Edge. Jaded (I could have done without). A fantastic bluesy version of Train Kept A Rollin'. Don't Want to Miss A Thing (could've done without this one too). New blues album - Stop Messin' (Joe has played this several times live before). New blues album - Baby Please Don't Go. Dream On. My favorite of the night Same Old Song and Dance. Cryin'. Walk This Way with a backflip at the beginning of the catwalk. Sweet Emotion. Very energetic show and Steven was swearing like a sailor. He yelled into one person's cell phone on the catwalk and tried on several different hats. Aerosmith wing confetti shot out at the end of Sweet Emotion. The show was great. Much better than last year in Vegas. Hopefully they'll be just as great Friday and Saturday (October 24 and 25) here in Vegas. Can't wait!

..::Update::.. Vegas. Friday. We were in the very back of the MGM Grand Garden Arena. I decided to spring for these tickets at the last minute so the fan club seats were long gone. The show seemed way too together. I like my Aerosmith wild and Steven sang almost every lyric in every song. Too weird for me. I guess they were taping a VH1 Classic concert so they were on their best behavior. It was so strange, I'm not even going to review it. Saturday. Fan club seats were probably 10 rows back from the end of the catwalk and way off to the left, or on Tom and Brad's side. Porch Ghouls, recorded on Joe Perry's record label, opened and rocked. They even threw in their rendition of Walkin' the Dog. Pretty good. Then KISS. You know, after seeing them three times, I am truly a KISS fan now. I admit it. It's the truth. Same stuff as on Friday and the week before in San Bernardino. Then Aerosmith. The show was a huge change from the night before. The guys played much more loosely and much wilder. It was fantastic. They played Rats in the Cellar too! I couldn't believe it. Nobody knew the words but I held my own while people stared. Steven announced that Michael Jackson, Lance Bass, and Kelly Clarkson were in the audience. Then as Joey started the intro to Walk this Way, Steven ran up and said, "Hey Joey wait a minute." Then to us he said, "I need a favor from you. My daughter Mia is here tonight and she wants to get married. Can I get a witness? Can I get a witness?!?" So of course they got their witnesses and Mia got married right in front of us all! It was really neat. Steven was obviously excited and afterward he went around and hugged the rest of the band. He was a proud dad. Then came Walk this Way and yadda yadda and confetti and again, no encore. What's the deal? Anyway, I can't wait to see 'em again. They remind me of how much I love them each time. A beautiful experience.
Aero/Kiss Tour Pictures
MTV.com has a cool photo flipbook. Here is the link to the page. On that page, click on Kiss and Aerosmith Live, 08.04.2003 under the Photo Flipbooks section.
Honkin' On Bobo Release Postponed
The much anticipated blues album won't be released until early next year, maybe even around Valentine's Day. I'll take that as a V-Day gift. According to Joe Perry's interview on Billboard.com, "Aerosmith has finished cutting the tracks for its new blues album, which will be mixed over the summer and fall and will most likely be released in January by Columbia. All the basics are done, we're probably three-quarters done with the overdubs. And there really aren't many to do, because we cut the album basically live." Set lists from the Rocksimus Maximus tour have included 2 or 3 blues cuts from this album. The CD is being co-produced by Aerosmith themselves and former producer Jack Douglas. Jack was around during the recordings of Toys in the Attic and Rocks. Can't wait to hear it.
---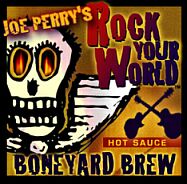 Boneyard Brew
Joe Perry put out the first concoction of his new hot sauce line, Rock Your World Hot Sauce. The first sauce is called Boneyard Brew and can be ordered online here. In his interview with Aero Force One he said that he has been a hot sauce fan forever. There are also some very entertaining pictures of Joe making his sauce. If you plan on ordering a bottle or two, beware, the checkout on the website has mood swings.
mtvICON
MTV honored Aerosmith with their Icon award. If MTV reruns this show, watch it. Confessionals and tribute performances were given by Pink, Train, Jay Leno, Kid Rock, Sum 41, Ja Rule, Nelly, Metallica, Shakira, and Papa Roach. Train did a great cover of Dream On and Kid Rock threw in the beginning of Mama Kin before a great version of Draw The Line. Jay Leno enthusiastically said that he and the band used to live on the same street in Boston in the early '70s and in passing they would say how they were going to be comedians and rock stars. The boys played several songs at the end including a new single from their upcoming ultimate greatest hits album followed by the best live performance of Train Kept A Rollin' I've ever heard.
The Best Time of My Life
On Friday, December 7, 2001, I went to the show in Little Rock, Arkansas (no hillbilly jokes please). Got there, had 2nd row tickets right next to the catwalk. I grabbed a spot against the catwalk immediately. Steven Tyler was one foot from me most of the time. I could see the man's sweat and veins. It was incredible. About half way through the show, Steven was running up the catwalk back to the main stage, and I got to touch his hand as he ran. I screamed like a little girl! I had been waiting years to touch my hero. A few more songs passed and the band began Draw The Line. Not too many people were singing along, so I guess I stood out a little bit to the band as I lipsynched the words. Brad and Tom gave me two huge smiles and Steven looked directly at me, did his famous swirly-point gesture right at me, and said, "That's right!" That was just as good as touching him. The time of my life, I tell you.
---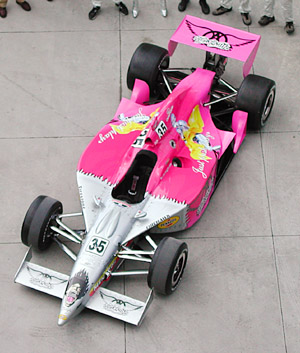 Indy 500
Steven sang the national anthem for the crowd at the Indy 500 afew years ago. A few veterans were bothered by Steven's modification of the last verse, "home of the brave" to "home of the Indianapolis 500." Get over it. He did a great job. Car 35 was painted pink with the Just Push Play cover and a characature of Steven. Very cool. I have the mp3 if you would like it...
Hall of Fame
The boys were inducted into the rock and roll hall of fame on March 19, 2001.
Aerosmith World
Chat with other Aero fans in Aerosmith World, a 3d interactive, real time site with four different Aero-world chat rooms. Worlds.net brings you "a futuristic citadel, an exotic temple, a roadside diner, and a stage for Aerosmith performances."
Get it here.
---
back to top
Check out Aerosmith's Official Website for the best up-to-date concert dates and tour happenings.
Really into Aerosmith? Join the official fan club- Aero Force One. Believe me, the 35 dollars it takes to join is well worth it (26 bucks to renew). I have been a member since 1994 and I absolutely love it. When you're a member, you'll get the official password and be able to enter the "Members Only" sections of the site. The preferred tickets are the best part. They are guaranteed within the first third of the venue. You get all the latest info in the newsletters and invitations to AF1-only member parties and trips. Subscribe to the official fan club now and you will get your membership information in time for the next tour. If you're lucky, you'll be up in one of the first rows! Join now!!
I've gotten my concert tickets through AF1 5 times and ended up twice with 2nd and twice with 1st row tickets...
---
back to top
Last Modified November 3, 2003.
© 1997 - 2003 Jordan Bond Durbin